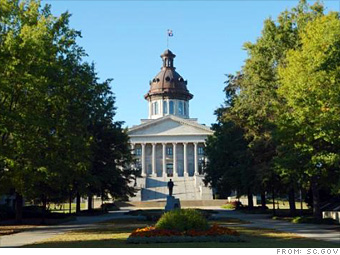 Last February, the governor signed into law the Small Employer Health Group Cooperatives legislation, which allows small businesses with 50 or fewer employees to band together to buy health insurance. The pool has to contain at least 1,000 eligible employees or 10 employers, and commit to purchasing through the cooperative for at least five years. The law really just amends a pooling law that's already been on the books for at least 15 years, broadening the minimum size requirement of 1,000 employees by also permitting any 10 small employers to form a cooperative.
The South Carolina Department of Insurance says it is currently working to help businesses form those cooperatives, although it does not keep track of the number of new business pools formed - or even the number of inquiries from interested small businesses. J.J. Darby, South Carolina state director of the National Federation of Independent Businesses, says his organization is unaware of any small business health care cooperatives formed since the law's enactment. "We have met with several health care insurance underwriters in South Carolina and, to our knowledge, they have yet to create or underwrite plans for this new co-op legislation," Darby says.
Frank Knapp, president of the South Carolina Small Business Chamber of Commerce, is highly critical of the new law.
"This is worse than doing nothing because it is a distraction from doing things that are meaningful, like assistance with premiums or tax credits," he says. Plus, Knapp fears that insurance companies won't want business from these pools, because it's not profitable for them.
"What insurer is going to want to negotiate with 10 employers that have two employees each?" he asks. "It's not going to work."

NEXT: Wisconsin