Better living through beads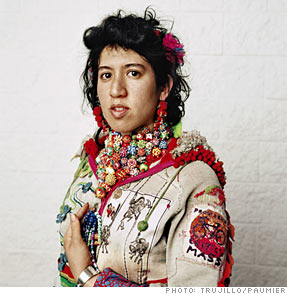 Jenine Bressner
Bead Designer
Jenine Bressner Fireworks!
Jenine Bressner gets stopped by plenty of strangers who want to ask about her business. Why? Because of the hundreds of beads around her neck, a galaxy of glass orbs in eye-popping colors. Some are designed to look like bees, flowers or even sushi. "People say, `What is that?'" Bressner says. "It's free advertising."
Bressner, 29, has been selling her beads for eleven years. Using a centuries-old method, she softens glass rods over a flame, then winds the molten material around a steel stem that leaves a hole in the finished bead. Bressner would not disclose her revenue, but the beads are her primary form of income (she also teaches craft classes and works as a freelance illustrator). Her bead prices are designed to pay her around $50 an hour. She charges between $45 and $90 for most of her items. "I keep it to a scale where I still enjoy doing it," Bressner says.
She also keeps her overhead as low as possible - by biking everywhere, skimping on health insurance, and growing her own food. Bressner makes her own shoes from used sweatshirts and moped tires, and is converting her washing machine so it can be powered by her bike. "I have to pay my rent," she says. "And I have to be free."

NEXT: A business built on Mentos