In their backyard studios and workshops, these entrepreneurs create beautiful gear for the wild - and future generations.
Craftsmanship for the ages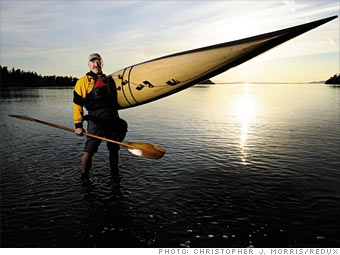 Joe Greenley wades through Deception Pass off Whidbey Island, Wash. - about 30 miles north of Seattle - with one of his custom kayaks.
Luxury ain't what it used to be. Nowadays a few multinational corporations dominate the luxury-goods industry. Cheap knockoffs of their mass-produced clothing, purses, and perfumes sell on street corners across the nation. All too often "luxury" means global brand awareness, fast growth, and a derivative sense of style.
Now the good news: American craftsmanship is thriving, and some of the most luxurious, lasting goods on the market come from independent businesses that employ - and often are owned by - talented artisans. Here's a look at three small firms whose handcrafted outdoor gear will take you and your great-grandchildren through the wilderness in style.

NEXT: Oyster Bamboo's Fly Rods