Fistfights, fundraising and booze: This month's business book picks showcase entrepreneurship's rowdier side.
A media pioneer proves his mettle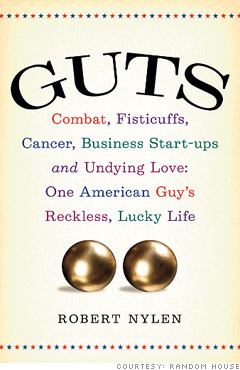 Guts: Combat, Fisticuffs, Cancer, Business Start-Ups and Undying Love: One American Guy's Reckless, Lucky Life
By Robert Nylen
Random House, 272 pages, $25
Entrepreneurs need to be tough. But what is toughness, really? That question is at the heart of Guts, a memoir by the remarkable Robert Nylen, who died in December 2008 after 64 pretty tough years on this earth.
Nylen co-founded National Magazine Award-winner New England Monthly and, later, the spiritual Web site Beliefnet.com -- accomplishments that border on miraculous, considering how close he came to death long before. As a young Army lieutenant in Vietnam, he was wounded repeatedly and saw his friends slaughtered. An inveterate risk taker, Nylen estimates he's had 200 stitches and two dozen broken bones, not to mention a few challenging episodes in business.
Most of this was before things really got tough - when he was diagnosed with colorectal cancer. "Between 2004 and 2008," he writes blithely, "I had 11 operations all told, as well as 300 hours of chemotherapy, 36 radiation treatments and a dozen emergency room visits. Then, for good measure, last spring I broke six bones at once (motorbike mishap), a personal record."
A lot of this was scary, but so was entrepreneurship. His setbacks while raising money for New England Monthly will resonate with anyone who's tried to get funding for what seems -- when you deliver the pitch, at least -- like a cockamamy scheme.
Guts is a terrific book, packed with action and insight, and you could not ask for a more humble, learned or good-humored guide than Nylen, who insists throughout this account of his tumultuous life that he's not that tough. By the end, of course, we know otherwise.
NEXT: How a rowdy entrepreneur revved up