Striking deals with the San Francisco Giants and landing millions in venture financing, these top teams from last year's Rice Business Plan Competition have battled the downturn to push their ventures forward.
Sports tix: How much would you pay?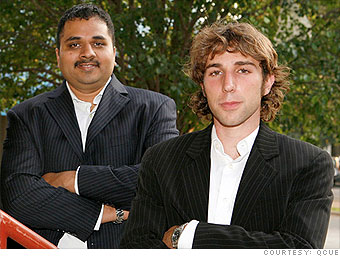 CFO Jiten Dalvi (left) and CEO Barry Kahn (right)
Qcue
Austin, Texas
Shortly after taking first place at the Fortune Small Business-sponsored Rice Business Plan Competition last year, Qcue landed its first client: The San Francisco Giants. The team agreed to use Qcue's technology to dynamically price about 2,000 of its hardest-to-sell seats.
The Qcue algorithm takes into consideration such variables as the weather, scheduled pitchers, and the month to set prices that fluxuate based on demand, much in the same way that airlines price their flights. The result? Every seat managed by Qcue sold out in the first two games of this season.
Company founder Barry Kahn expects it will take another year before his seven-employee firm is pricing entire stadiums. Until then, he's working to secure deals with additional Major League Baseball teams and other professional sports leagues - and with venture capital firms. By June, Qcue hopes to close on a large series A funding round.
NEXT: A hot deal for a cold-weather innovator