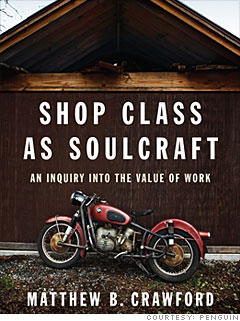 Shop Class as Soulcraft: An Inquiry Into the Value of Work
By Matthew B. Crawford
Penguin Press, 320 pages, $25.95
Remember shop class? Or products you could open up and fix yourself? Crawford, who owns a motorcycle repair shop, offers an eloquent defense of both in this wide-ranging meditation on manual competence.
The author explores practical and spiritual reasons to embrace the real-world challenges of craftsmanship, which he finds intellectually invigorating. From a commonsense standpoint, nobody in India is going to fix our cars or sagging porches over the Internet.
Surely no one since Robert Pirsig (Zen and the Art of Motorcycle Maintenance) has blended philosophy and motorcycle repair so beautifully. Crawford's book will resonate with anyone who works with or employs others to deal with "the durable objects of use."

NEXT: Jerks at work