So you wanna be a rock-and-roll star? This gear will get you jamming in style.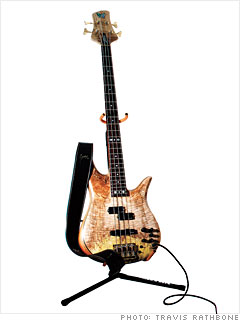 Monarch four-string bass, $9,880 and leather guitar strap, $180
For Vinny Fodera, co-founder of Fodera Guitars in Brooklyn, building basses is a slow process. He admits his methods are even a bit old-fashioned. For example, he allows the wood used in his guitars to dry for up to 10 years -- the slow-curing process guarantees better vibration for the low bass notes that give a rhythm section its kick. Fodera sells only about 110 handcrafted basses a year, but he takes pride in every one.
Moody Leather
Allison Suter learned to work with leather by making a deerskin jacket for her father. Following a stint designing handbags, she saw an opportunity after hearing her musician friends complain about the cheap quality of most guitar straps. Today, A-list rockers like John Mayer and Joan Jett use her products, made exclusively from buttery Italian leather.
They're sturdy too. Says Suter: "People say my straps make their Les Paul" -- one of the heaviest axes -- "feel weightless. That's something!"
NEXT: Batson Guitar Co.