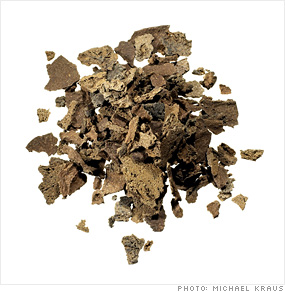 Oberon uses bacteria to turn unwanted beer sludge into premium protein feed for fish farms.
Oberon FMR
Idaho Springs, Colo.
Andrew Logan has what every manufacturer craves: an endless source of free raw materials that his suppliers can't wait to dump and a market starving for his product.
Logan, a biologist in Idaho Springs, Colo., turns waste from breweries into a fish-food ingredient. His company, Oberon FMR, spent a decade refining a proprietary mixture of microbes trained to eat food-based wastewater. When dried, the bacteria become high-protein flakes for the booming $100 billion aquaculture industry.
"The opportunity is massive," says Logan.
His suppliers agree. By law, breweries and foodmakers must find safe removal solutions for wastewater; hauling it away and composting it (or, in winter, storing it) can cost up to $3 million a year. Now Oberon takes it off companies' hands for free.
With 65 million tons of seafood farmed for human consumption annually, fish farms are growing by an average of 9% a year and need a new kind of premium feed.
Oberon isn't alone in the quest to find a new protein source for the world's fish. Companies in China and Norway are looking at corn, wheat, even feathers from chicken processing. But Oberon, which plans to launch its flakes in 2010, will be the first to have a free and plentiful food source. -Jennifer Alsever

NEXT: Cooler ice coolers