What you need to know about how your family will benefit, what you'll really pay, whether you'll get better or worse care, and what could go wrong from here.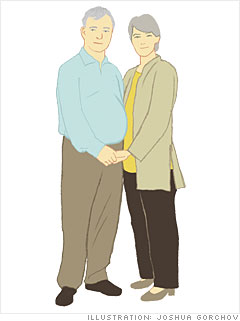 Ages:
68 and 65
Income:
$95,000
Work status:
Neither working
Insurance:
Medicare
What's changing: Within a year:
They'll get a free annual exam, plus no co-pays or deductibles for preventive screenings.
Since they have Part D drug coverage and each spends more than $3,000 a year on medicine, they'll each get a rebate of $250 in 2010 for prescription costs in the so-called doughnut hole, the gap in coverage for drug expenses between $2,830 and $6,440.
In 2011 they'll get 50% off brand-name prescriptions in the doughnut hole.
By 2020:
No more doughnut hole. They'll pay 25% co-insurance on drugs until their costs hit a catastrophic level, and 5% thereafter.
The bottom line:
They'll save $500 on medicine this year; premiums for drug coverage probably will rise just $1 to $2 a year.
NEXT
Last updated April 21 2010: 5:35 PM ET