Especially now, plentiful job opportunities are key to making a great place to live. These 25 counties have experienced the most job growth over the last nine years.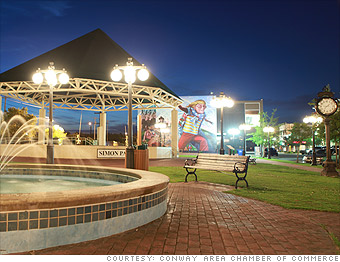 Towns include:
Conway
Job growth (2000-2009):
30.4%
You might assume Faulkner County in central Arkansas is little more than flyover country. But executives from top companies like Hewlett Packard and Kimberly-Clark respectfully disagree.
For employers, Faulkner has become an Ozark oasis. It boasts multiple colleges, generous tax incentives and a frontier of the natural gas industry. HP recently opened a $28 million customer service center in Conway -- a project hailed by the governor -- that will employ 1,000 people.
And the diversity of the county's economy -- populated by large firms in manufacturing, information technology and other industries -- is increasingly paired with other amenities. The construction of Southwestern Energy's Arkansas headquarters, to be completed this year, fits into a larger plan to bring retail stores and hotels to a pedestrian-friendly neighborhood near Hendrix College. -- B.W.

NEXT: Williamson County, TN

Last updated July 13 2010: 5:14 PM ET