Especially now, plentiful job opportunities are key to making a great place to live. These 25 counties have experienced the most job growth over the last nine years.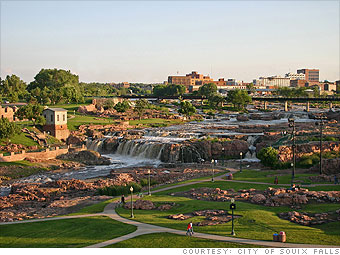 Towns include:
Sioux Falls
Job growth (2000-2009):
67.0%
Even though it's almost 1,200 miles away, Lincoln County wasn't immune to the financial crisis that rocked Wall Street.
The area is home to too-big-to-fail banking giants Citibank and Wells Fargo -- but Lincoln isn't all dollars and wide open spaces. A strong retail and healthcare presence helped keep the county going strong when banks were on the brink.
Sanford Health and Avera Health are currently the county's largest employers, and they're expanding. Both are building regional clinics and treatment facilities in the area. A major cancer treatment facility is scheduled to be completed by late 2010. -- F.R.
NEXT: Williamson County, TX
Last updated July 13 2010: 5:14 PM ET
Only counties where each Best Place within it was also experiencing job and population growth, and where unemployment was below the national average, were considered. No more than 5 places within a state could qualify.