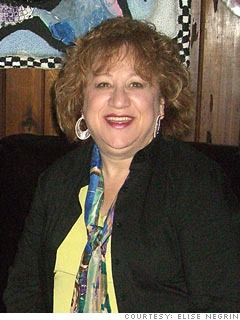 Elise Negrin
Age:
55
Hometown:
Bethpage, N.Y.
Job wanted:
Executive assistant
I've been unemployed for 11 months now. It's my second downsizing. I'm frustrated. I was in subprime lending in the automotive finance field and there's nothing there. I sort of took a break at the end of November and I'm still on that break.
I'm very flexible and I can do a lot of different things but I'm just at a loss. Nobody makes an offer, not even an interview, and I've applied to over 600 jobs. I'm doing a huge amount of volunteering and networking even though I'm on a break. And I have tried to reinvent myself, I changed my résumé a little bit and I'm learning how to build Web sites. I'm very open to trying new things.
My unemployment is going to run out pretty soon and I have to get back into the job search. I have to start looking. I just don't know where to start.
NEXT: Bills unpaid, credit ruined