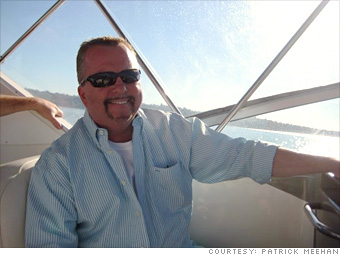 Patrick Meehan
Age:
59
Hometown:
Chicago, Ill.
Job wanted:
Sales management
I've been out of work exactly one year now. I was laid off last February. I worked for the last 25 years in educational publishing. With the economy, they decided to cut the whole executive team. It was a pretty major cut. Since then, I've been on interviews; in fact just recently I made it down to the final three and just found out this week I didn't make the final cut.
I'm still looking in sales management but I've also applied for positions outside of the industry, but they want people with experience. I'm at the point now of thinking about maybe starting my own business but I haven't decided what that will be yet. I enjoy what I do and I think I'm pretty good at it. There's just not a whole lot of opportunities.
I've kind of stepped back for a while now deciding what I'm going to do. I'm at the point now where I feel like I'm running into a brick wall. I'm trying to reevaluate things. I have a family to support -- I've got a wife and four kids. Luckily my wife has a secure job.
NEXT: 'Hustling to get freelance gigs'