Health care reform has been a long, divisive battle in Washington and across the nation. But these four people can't wait for the changes rolling out.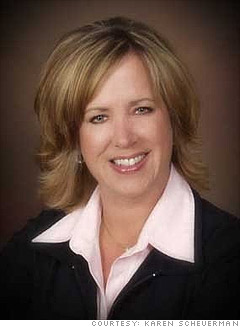 Job: Partner at a financial services firm
Hometown: Louisville, KY
My husband and I are both self-employed, so we can't wait to find affordable health care for ourselves and for our employees -- probably through an exchange program or with the help of tax credits.
Right now, we carry only a catastrophic policy for ourselves. We're not getting the preventative care that we would like because it's all out-of-pocket. Our deductible, before the catastrophic plan would kick in, is $10,000 per year.
I'm a partner at a financial services firm, and we help people who have gotten into bad credit situations. So we've had good business lately. On the flip side, my husband is a mortgage broker and that sector has been hit hard.
I have three employees, and my husband has seven. We want to offer our workers health insurance at a reasonable price. That would really open up the hiring pool for us. Right now, we can attract only employees who have health insurance through their spouses or those who are willing to risk forgoing insurance altogether.
As a small business owner, you have to make tough choices. At one point I was ready to give it up and work at Home Depot just for the benefits. We ended up powering through, but it's been a hard road.
And it's tough all over -- I don't think poor people should have to go bankrupt over medical expenses, but I see it every day at my job. Republicans and Democrats alike say smallbiz is the backbone of American industry, but so far we've been shut out. I hope this is the beginning of many changes down the road.
NEXT: Mary Pitman, 54, employed full-time