Here are the places where B-school students most want to work, according to a survey by research firm Universum, for an exclusive CNNMoney list. Not only are these top 15 employers popular, but even in this economy most are looking for talent.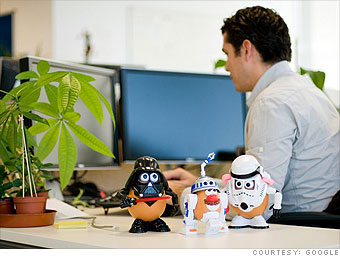 % of MBAs who want to work there:
22.39%
Headquarters: Mountain View, Calif.
Hiring plans: It's no surprise that Google tops the MBA Employers list for the fourth year in a row.
But MBA students may be pleasantly surprised to learn that the search star is staffing up. Google hired 800 employees in the last quarter alone, and it plans to keep hiring aggressively across all levels, especially for sales and engineering positions, said Jordan Newman, a company spokesman.
"We want people that had challenging course loads in school but did other things too," he said, "anything that sets people apart from the pack, like someone who started their own business or ran competitively in marathons."
Why Google?: Well, who wouldn't want to work for a company that offers free meals, massages, as well as onsite laundry and oil changes?
But the creative culture is another big draw. "People want to work here because they know they'll be doing innovative work," Newman said.
Employees are encouraged to learn skills outside of their specific field, by taking French lessons at the company's so-called Google University, for example.
Says Newman: "There's a strong emphasis on growing here."
NEXT: 2. McKinsey & Company
Last updated June 03 2010: 11:33 AM ET
Source: Source:
Universum
* Based on survey respondents who selected as one of their top 5 ideal employers. Methodology