The Gulf oil spill doesn't exactly scream 'marketing opportunity,' but that didn't stop these four companies from rolling out ad campaigns tied to the tragedy.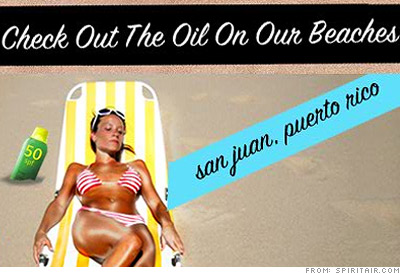 Scantily-clad women are common in ads of all kinds. But one airline's Web spot came off particularly greasy, considering the scope of the oil disaster in the Gulf.
"Check out the oil on our beaches," suggests the Spirit Air ad, which features suntan-oil-slicked women in bikinis. It's hawking a coupon for $50 off tickets to beach destinations.
A few news organizations posted articles about the ad, calling it "ill-conceived" and saying the spot "mocked" the spill. Spirit Air said its ad was "misunderstood."
"We are merely addressing the false perception that we have oil on our beaches," Spirit said in a statement. "We are encouraging customers to support Florida and our other beach destinations."
NEXT: A futile exercise
Last updated June 22 2010: 6:47 PM ET