Many candidates spent big on this election. Many lost, a few won and some didn't even show.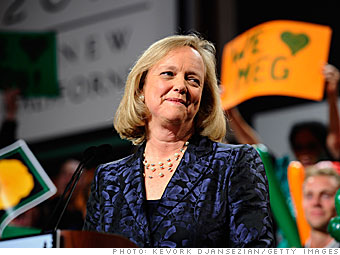 Republican Meg Whitman dropped $142 million of her own money on the California governor's race. That's thought to be more than any other individual has ever spent on any single political race in U.S. history.
That's substantially more than the $102 million spent by New York City Mayor Michael Bloomberg in 2009, and over double the $65 million spent by presidential contender Ross Perot in 1992.
For Whitman, the former eBay CEO, her personal spending amounted to $46.91 per vote. That still wasn't enough to beat challenger Jerry Brown, whose entire campaign spent about $7 per vote.
What many say did her in: Reports late in the race that she hired an illegal housekeeper, at $23 per hour.
NEXT: Linda McMahon: Smackdown costs $100 per vote
Last updated November 08 2010: 3:47 PM ET