You don't necessarily need to go to college to make big bucks. PayScale.com ran the numbers and found these 6 jobs where top performers can earn $100,000 or more a year without a bachelor's degree.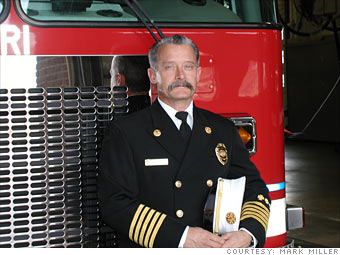 Mark Miller is the fire chief in Vail, Colo.
Top pay: $121,000
Median pay: $72,900
Almost nobody rises to the top of a fire department without first putting in many years of dedicated fire fighting. But because competition for these jobs is fierce, it's not uncommon for younger chiefs to have some college education. Still, the job is open to skilled firefighters with only a high school degree.
"So much is based on your leadership skills and your management skills and not necessarily whether you have a degree," says Vail, Colo. Fire Chief Mark Miller. "Anything can happen. You try to manage what is within your control."
After juggling a dozen calls a day in addition to administrative duties that include building new stations, staffing and the budget, Miller says that "there is no greater reward than to literally save someone's life." But, he adds, "I also get a tremendous reward out of the simple day-to-day things, a wild fire where your preventative actions probably saved hundreds of homes or just helping someone get into their car when their baby is locked inside. Those simple things are often overlooked but that's what keeps you going."
NEXT: Air traffic controller
Last updated September 13 2010: 10:11 AM ET