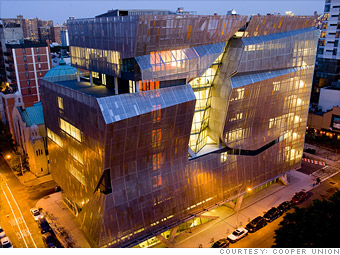 Location: New York, N.Y.
Tuition & fees: $0
With only 1,000 students and an acceptance rate around 8%, Cooper Union is tough to get into. But it's well worth the trouble, since the school offers well-respected programs in art, architecture and engineering and doesn't charge a cent to attend.
Jessica Friscia, a four-year civil engineering student at The Cooper Union for the Advancement of Science and Art, said not having to pay tuition allowed her to take unpaid internships and spend time researching, rather than worrying about finding a paying job and not being able to concentrate fully in her field of study.
"I'm going to graduate without any debt," said Friscia. "Engineering is a well-paying career to begin with, so to not have debt and to have a pretty well-paying job next year is going to be awesome."
But it wasn't just the free tuition that attracted her.
"New York is the best city to be an engineer since there are tons of projects going on all the time, and Cooper is the best place to do engineering," Friscia said. "So in the end it was the top-notch education I knew I was going to get that made me want to come here."
NEXT: Berea College
Last updated November 10 2010: 1:38 PM ET