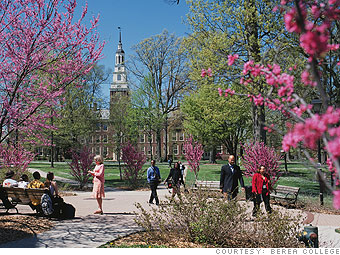 Location: Berea, Ky.
Tuition & fees: $0
Berea College, a small, largely Christian institution, only accepts students who would otherwise be unable to afford a higher education. And then, on top of free tuition, Berea gives all freshmen a Dell notebook computer.
"We attract students of high promise with limited financial resources and then provide for them the highest-quality liberal arts education that money can't buy," said Joe Bagnoli, dean of enrollment and academic services.
Berea is a great place for extremely bright students who want a school with a lot of diversity, but don't have the means to pay for college, said Bagnoli. The school's 1,600 students hail from 40 states and 60 countries, and about a third are ethnic or racial minorities. And for those who want to expand their horizons further, Berea encourages study abroad by covering up to 75% of the total costs.
Back at home, the school also waives room and board charges for students who can't afford it, about half the population.
Students must work at least 10 hours a week, but the school makes time for fun, too. Each year, the school hosts a Mountain Day celebration, where students, faculty and staff take a day off from classes to climb nearby Fort Mountain for sunrise singing and country dancing.
NEXT: Webb Institute
Last updated November 10 2010: 1:38 PM ET