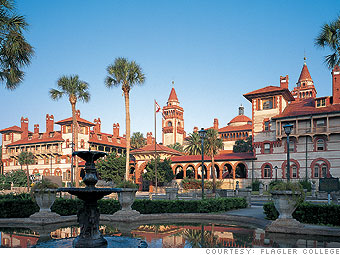 Location: St. Augustine, Fla.
Tuition & fees: $13,860
Located on an estate in St. Augustine, Fla., students at this liberal arts college get a great education -- and get to hang out in the sun too.
"Flagler is fairly inexpensive, we're doing innovative things and have a lovely environment and a terrific city -- especially for certain majors like history, since St. Augustine is the oldest city in the U.S. and there are a lot of local historians here," said Jim Wilson, an associate professor of English at the college.
The school recently started a program for freshman called "learning communities," where incoming students with similar academic interests are placed in groups and take all the same classes together, giving them an immediate support system. Not that Flagler is enormous -- only about 2,700 students are enrolled. Top departments include business, communication and education.
Flagler is only about an hour from Daytona and Jacksonville and two hours from Orlando, so students can head to the beach for the weekend, or to Disney World for some roller coaster fun.
NEXT: Tuskegee University
Last updated November 10 2010: 1:38 PM ET