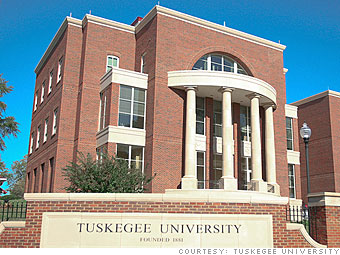 Location: Tuskegee, Ala.
Tuition & fees: $16,750
Founded by Booker T. Washington more than 125 years ago, Tuskegee now has 2,475 students.
One of the Historically Black Colleges and Universities, Tuskegee is known for its exceptional programs in the hard sciences and engineering -- particularly aerospace, chemical and electrical engineering, said Rob Frenek of the Princeton Review. The veterinary degree program is another draw.
"It's a laid-back campus where students are very focused, but there's great school spirit at the same time," he said. "There are also lots of research opportunities available and faculty members are good mentors and accessible outside the classroom."
Just don't expect the town of Tuskegee to be all that exciting: Students say it's an affordable but boring town, said Franek.
NEXT: Wesleyan College
Last updated November 10 2010: 1:38 PM ET