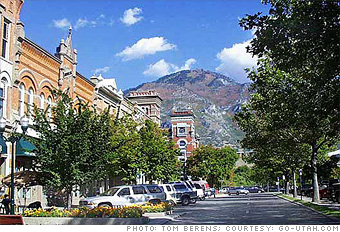 Foreclosure rate:
One in 24 homes
Percent increase:
101%
National rank:
30th
Unemployment rate:
5.5%
Provo is the hub of the second largest metro area in Utah and is the home of huge Brigham Young University. The economy is quite strong and unemployment low, yet foreclosures doubled this year.
"We've seen big increases this year because the economy slowed down rather later than elsewhere in the country," said Scott Schaeffer, a professor of finance at Utah State.
Home price increases also remained modest until the last couple of years of the boom, when other hot markets had already started to cool. It was only about a year and a half ago, according to Schaffer, that home prices started to fall in Utah.
Foreclosure rates seem high, considering that prices never rose as crazily as in bubble markets and the economy has remained strong.
One factor hurting Provo borrowers was a lax regulatory climate: Predatory lending was common, according to Schaeffer. Often it took the form of affinity fraud in which scam artists would infiltrate churches or other organizations and exploit the trust of other members to stick them with unaffordable mortgages.
That has translated into filing rates that have risen by 579% over the past two years.
Dan Christenson, president of Coldwell Banker Utah, said the state has always been on the high end of the foreclosure rates.
"People are buying houses they can't really afford," he said. "When there's any kind of change in their circumstance, it's a challenge for them."
NEXT: Portland, Ore.