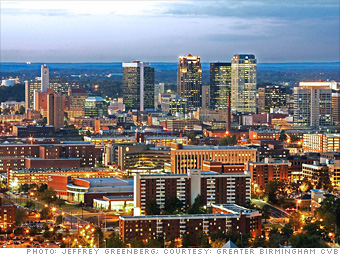 Foreclosure rate:
One in 61 homes
Percent increase:
267%
National rank:
85th
Unemployment rate:
9.5%
The recession did more damage to Alabama's economy than it did nationwide, according to University of Alabama economist Sam Addy. The unemployment rate swung from lower than the national average to greater than the national average.
In the Birmingham metro area it went to 9.5% in November from only 5.212 months earlier. Employers laid off many workers in the state's manufacturing sector.
The big run up in unemployment turned Birmingham from an area relatively free from the foreclosure plague to a foreclosure rate of one for every 61 households. That was still slightly lower than, but much closer to, the national average of one filing for every 45 households.
The rapid rise in foreclosures is almost totally related to the economy; home prices in the area have remained very favorable with a median price of around $130,000 according to the Wells Fargo-National Association of Home Builders. With prices so low, few buyers had to rely on exotic loans.
NEXT: Myrtle Beach, S.C.