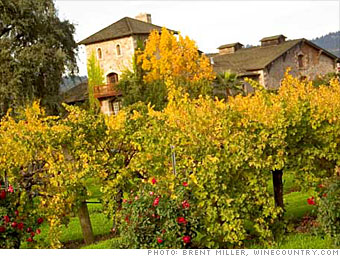 Median home price: $360,000
Value lost since 2006: 45.7%
Forecast gain through 2011*: 3.6%
Napa, the Mecca for American wine lovers, has gone through a housing bust like few other metro areas.
Values here dropped a whopping 45.7% in the last three years (ended September 2009). Napa was a big participant in California's housing bubble, and when the bubble burst, prices had a long way to fall.
The losses will continue well into 2010, according to Fiserv and Moody's Economy.com. Prices will fall an additional 3.6% through Sept. 30, 2010, before turning around in 2011.
After that, however, it will be a return to double-digit price increases with 11.2% gain over the following 12 months, as the inventory overhang is worked through and the job picture starts to improve.
It's not just the great grapes; Napa is both beautiful and boasts a vibrant life style with wonderful restaurants, a lively arts scene and great recreation. When Bay area residents and other Californians regain their financial equilibrium, they look to this area for second home and retirement purchases.



NEXT: Cheyenne, Wyo.

Last updated June 21 2010: 3:02 PM ET
Source: Fiserv and Moody's Economy.com
* Between September 2009 and September 2011