From mega tax breaks to innovative business incubators, these places offer compelling incentives to would-be entrepreneurs. Before you start a business, see if the city you're targeting has a program like one of these.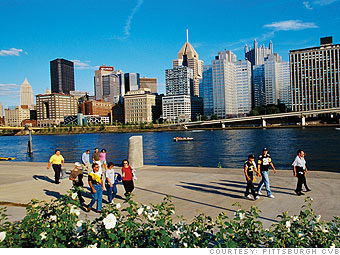 Pittsburgh may not be Silicon Valley, but the state's second-largest city hopes to recapture some of its former steel-era glory by becoming a hub for technology start-ups.
Bill Gates wannabes can get advice and capital from InnovationWorks, an economic development organization designed to help tech start-ups that could boost the southwest Pennsylvania economy.
The region's largest seed-stage investor, InnovationWorks has provided more than $45 million in financing to more than 125 technology start-ups since it started ten years ago. Business consulting also is available for start-ups, while a grant program helps small manufacturers boost their efficiency and universities develop ideas that could turn into viable products.
Meanwhile, IT entrepreneurs focused on starting web, mobile, gaming or hardware firms can get free office space, mentoring and $25,000 in funding via its 20-week AlphaLab. AlphaLab companies include Careerimp, which helps users create resumes targeted to specific jobs fast, and Devotee, which sets retailers up with mobile loyalty programs.
NEXT: Miami
Last updated November 23 2010: 1:41 PM ET