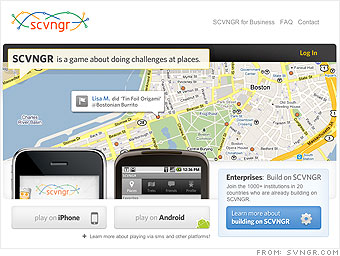 SCVNGR
Launched: 2008
Landing the URL for SCVNGR involved as much gamesmanship as one of the mobile venture's puzzles.
"I may or may not have created some alternative identities to seed the market with low bids, then pull them at the last minute to create a feeling of desperation in the buyer," founder and "chief ninja" Seth Priebatsch says.
SCVNGR is like a mashup of Foursquare and a scavenger hunt: Players earn rewards for completing challenges at designated spots. Until the creators hit on the idea of a word play on "scavenger hunt," they struggled with the naming dilemma.
The team threw around names like "radius" and "platform," Priebatsch says -- "even weird things like Hylomoma, but that one sounded too much like a disease so we decided against it."
Just like Twitter, Priebatsch hopes he can eventually afford the vowels to complete the word "Scavenger."
"You know, it's complicated -- you've got to spin the wheel and then you need board approval and a notary ... etc," he says. "But after this crazy growth we've had, we're getting close!"
NEXT: Cash on the table buys a brand
Last updated November 23 2010: 12:13 PM ET