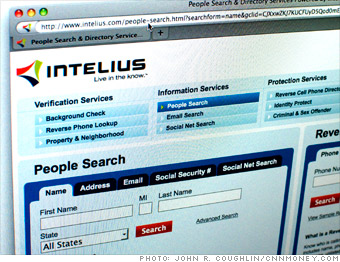 Who they are:
Intelius
aggregates public records to let companies and consumers perform background checks on other people. It claims to have more than 20 billion records on individuals.
The company was founded in 2004 by Naveen Jain, who was exiled from InfoSpace -- a company he founded -- in 2002 in the wake of an accounting and insider trading scandal. He's had a more recent brush with the law: Intelius settled for $1.3 million in August after the Washington Attorney General accused that the company of signing people up for a monthly service without their knowledge and continued to charge their credit cards even after customers called to cancel their service.
What they know: Intelius tracks your name, address, address history, age, birthday, phone number, relatives, income, the value of your home, and your marital status. It also searches government records for criminal activity, bankruptcies, liens, judgments, aliases, lawsuits, divorce records and death records.
How to opt out: It ain't easy. You have to fax your driver's license to (425) 974-6194 and allow four to six weeks to process the request. But all that will do is suppress your name and address as they appear on your license from all public records Intelius possesses. Intelius says that if your name, address, or even area code changes, you have to repeat the process to opt out of future records.
Intelius announced last week that it would begin to allow people to keep some information obtained by the site hidden from others -- for $9.95 a month. But that 10 bucks doesn't get you much: You can suppress up to two addresses and one phone number from some, but not all, of Intelius' sites, and other sites that have already purchased Intelius' information about you may continue to display that information.
NEXT: Pipl
Last updated December 16 2010: 5:18 PM ET