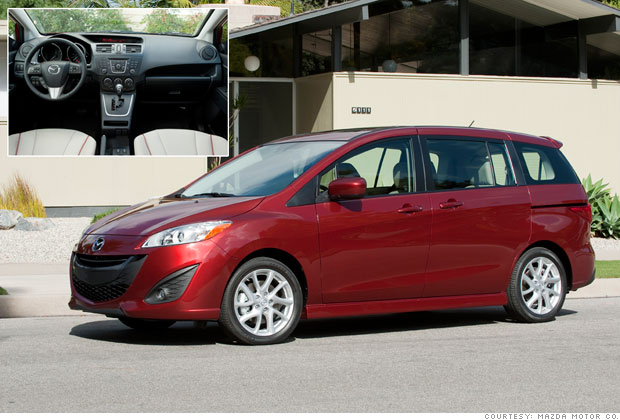 Base price: $19,195 - $23,875
Mileage: 21 City / 28 Hwy
Great if you want: A van that's actually fun to drive.
Weak spots: Cargo space, available featuers.
Despite the name, there's nothing mini about most of the minivans in this gallery. Here's the exception.
The Mazda5 is a genuinely compact van which, all by itself, confers a number of benefits. First of all, the Mazda5 is the only van that's notably better on gas than the others. Second, it's the only one that's really fun to drive, not just less un-fun to drive. Finally, when you get done driving, it's easy to park just about anywhere.
What you lose is the ability to squeeze in one more occupant -- it seats six, max -- and the the third row isn't huge. Also, the options list is meager compared to the home entertainment catalog you get with most vans. (A rear-seat entertainment system will be offered soon.)
For drivers, the Mazda5 offers lots of entertainment, though. For families with one or two kids, it's just about perfect, offering all the utility of the bigger vans without making you feel like you're dragging around a lot of empty space.