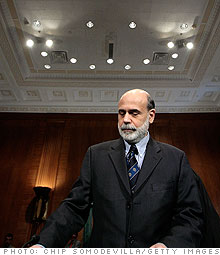 The Fed's crystal ball often seems to be broken. Just months before Lehman Brothers went belly-up, Fed Chairman Ben Bernanke told Congress he expected only small banks to fail as a result of the housing bubble bursting.
"I don't anticipate any serious problems of that sort among the large, internationally active banks that make up a very substantial part of our banking system," he said in February 2008.
Lehman filed for bankruptcy in September.
In July, Bernanke also claimed Fannie Mae and Freddie Mac were "in no danger of failing." The Fannie and Freddie bailout that followed is on track to be the most expensive government rescue of the financial crisis. It's at $153 billion and counting.
NEXT: Everyone spikes the punch bowl
Last updated March 24 2011: 3:05 PM ET