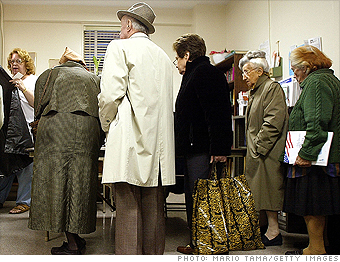 This agency, which helps senior citizens navigate the maze of federal bureaucracy and maintain independent lives, saw its budget of over $2 billion cut by $16 million.

To some, that's a small price to pay for an attempt to balance the budget.
"You have to look at how much these programs have grown," said Brian Riedl, a budget expert at the Heritage Foundation, noting that federal spending on anti-poverty programs in general has gone from under 1% of the nation's total economy during the 1960s to almost 5% today. "If we want to bring the deficit under control, you can't wall these programs off."
But others note that the attempt to balance the budget is currently being done largely through cuts alone, not tax increases.

"We need to keep in mind that these programs serve less advantaged families," said Isabel Sawhill, a senior fellow in the economic studies program at the Brookings Institution. "No sacrifice has been asked of the wealthy who don't rely on such programs but do pay taxes."
More galleries
Last updated April 15 2011: 7:23 AM ET