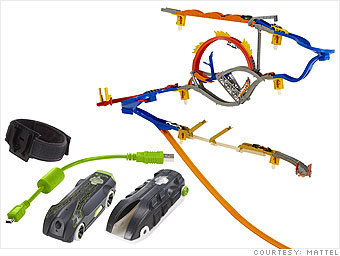 Maker: Mattel
Price: Video Racer $59.99; Wall Tracks Starter Set $29.99
Age: Video Racer 5 & up; Wall Tracks 4 & up; available in Fall
Hot Wheels Video Racer is the first Hot Wheels car with a video camera and LCD screen built-in that allows kids to capture and produce 12 minutes of footage.
Kids can playback and delete their footage. They can also add preloaded music and special effects to their video. The footage can then be uploaded to a computer using the camera's USB port.
Video Racer works on any Hot Wheels track, but kids can also attach the car to their wrist, bike, helmet or skateboard to capture their own adventures on video.
Wall Tracks is Hot Wheels' first racing track that kids can run vertically up a wall, closet door or along the corner of the room. Wall Tracks can connect to Hot Wheels floor tracks.
NEXT: Monopoly Live
Last updated February 11 2011: 11:47 AM ET