Real estate mogul Donald Trump believes his name is synonymous with luxury. But do his products - from clothing to chocolates - live up to the hype?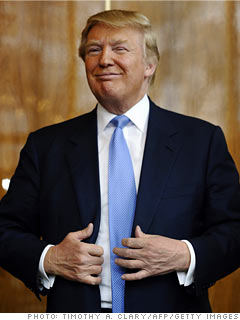 Donald Trump is flirting with a presidential run yet again, which may or may not be a stunt to boost to his brand.
The Donald has spent decades trying to make his name synonymous with luxury, with varying degrees of success.
"For Donald Trump, image is everything," said Marshal Cohen, chief retail analyst with NPD Group.
Trump is known, first and foremost, as a real estate mogul with a stable of namesake hotels, residential towers and casinos. He hosts the reality TV show "Celebrity Apprentice," and has authored bestselling books "The Art of the Deal" and "How to Get Rich."
He's also attached his moniker to a slew of somewhat random products, from clothing to chocolate, tea and bottled water. They're marketed as luxury items, but not everyone agrees they deserve that designation.
"If you were the purest of a luxury consumer, you wouldn't touch this stuff with a ten foot pole," said Cohen.
But that's not the point, according to Evelyn Choi, director of global licensing for Trump. She said the Trump brand is targeting consumers who "trust that Donald Trump, a man who lives a very luxurious lifestyle, has put his seal of approval on product that they can now afford."
NEXT: The Signature Collection
Last updated May 03 2011: 11:16 AM ET