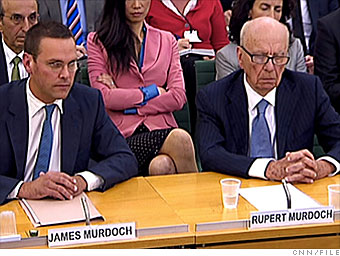 News Corp. head honchos Rupert and James Murdoch were summoned to testify before Parliament over phone hacking allegations at the venerable British tabloid,
The News of the World.
The paper was abruptly shut down after 168 years of operation over allegations that staffers had tapped into the phone messages of numerous people, from celebrities like Hugh Grant to crime victims like Milly Dowler, a schoolgirl who was murdered.
During testimony, chief executive Rupert embraced the classic corporate philosophy of pass the buck.
Parliament member Jim Sheridan: "Mr. Murdoch, Do you accept that you are ultimately responsible for this whole fiasco?"
Rupert Murdoch: "No."
Sheridan: "You're not responsible? Who is responsible?"
Murdoch: "The people that I trusted to run it and then maybe the people they trusted."
A protestor managed to sneak into the proceedings and slapped Murdoch with a cream pie. Murdoch's wife Wendi slapped him back.