Stores are more nervous than ever about getting stuck with merchandise, so they're asking the experts what to keep and what to put out to pasture.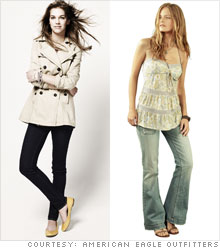 Return to the age of aquarius? Before stocking up on 70s-style wide leg jeans, stores need to know if skinny jeans are still hot, or not.
Walk into any department store lately and you're sure to find one, if not all three, of these items -- skinny jeans, over-the-knee boots and butt shaper shoes.
These three trends aren't exactly new. Over-the-knee boots exploded onto the fashion scene in fall 2009. A year and a half later, stores are still selling them.
But that's just a matter of time. When it comes to fads, American consumers have become notoriously fickle and retailers know this.
Today stores are in a skinny jean vs. wide-leg 70s-style jean dilemma. Skinny jeans have been a popular item for years, but are they hot enough to keep on the shelves for much longer?
NEXT: Over-the-knee boots
Last updated March 29 2011: 11:19 AM ET