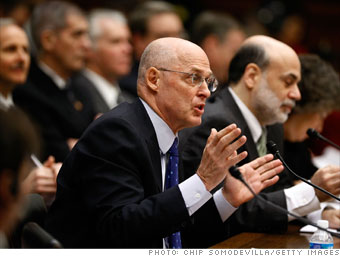 In October 2008, Congress authorized the Treasury Department to spend up to $700 billion to help stabilize financial markets.
The money would be used to bail out banks and Wall Street firms, finance General Motors and Chrysler's trips through bankruptcy and help homeowners modify mortgages they could no longer afford.
When lawmakers authorized Treasury Secretary Henry Paulson (right) to tap the aid, it was unknown how much would ever be returned to the Treasury. Turns out, the bank bailouts have turned a small profit, while taxpayers are still holding the bag for bailouts for the auto industry and AIG.
According to the latest CBO estimate, TARP -- the whole program -- will ultimately cost taxpayers $19 billion.
NEXT: American Recovery Act: 2009
Last updated April 27 2011: 5:01 AM ET