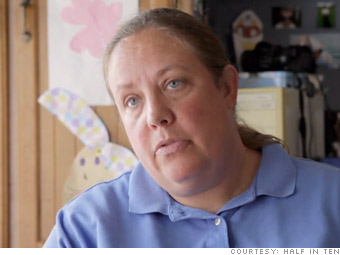 Lyn Grotke, 47
Fayette, Maine
A few years ago, Lyn Grotke was supporting herself and two young children. She owned a house, paid her bills on time.
But her life unraveled in February 2008, when she broke her leg. When she could return to work a year later, she had no job. She lost her home to bankruptcy and lives in a trailer while waiting to be approved for federal housing assistance. She applied more than three years ago.
Grotke, who has a master's degree in outdoor education, is scrambling to stay afloat. She works a few days a month for the city of Augusta, consults for the Muskie School of Public Service and teaches domestic violence prevention. She's also babysat, taken care of the elderly and worked for the Census.
Still, she earns only between $200 and $800 a month. Even adding in $750 in food stamps and death benefits for the children's father, "it's clearly not enough to live on. It won't meet my expenses. There's no chance." The trailer alone costs $700 a month, plus she needs $1,100 for food, insurance, gas and other expenses.
"I'm going under," she said. "I'm in a loop I can't get out of. It's very, very stressful."