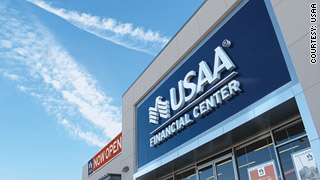 No, USAA isn't just for military families. The Internet bank started that way, but it now serves anyone. And it's become one of the most popular options for people trying to avoid the megabanks.
Why?
Because USAA offers a checking account with no minimum balance requirement, no monthly maintenance fee and issues free paper checks.
Plus, the bank allows 10 free ATM withdrawals per month and refunds up to $15 of what other banks charge you for using their ATMs.
Unlike Ally Bank, it does offer remote check deposits using your computer or smartphone, but only for customers with military connections. Customers unaffiliated with the military must send checks directly to USAA or deposit them for free at participating locations of the UPS store.
It has a bank-to-bank transfer service as well, so customers can go to a local bank to access their funds.
NEXT: Capital One
Last updated January 28 2011: 2:44 PM ET