Tax season is upon us, and these 7 smartphone apps will make doing Uncle Sam's paperwork a little less ... taxing.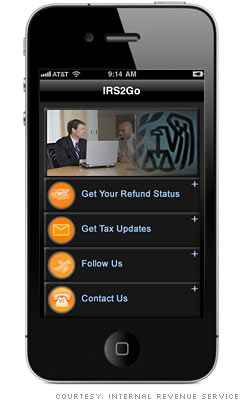 App: IRS2go
Wondering if your tax refund got lost in the mail?
Find out exactly how long you have to wait to see your check with the IRS' first mobile app, which launched in January.
If you e-filed your taxes, you only have to wait a few days to begin tracking your refund. But if you filed a paper return, you won't be able to check the status of your refund for three to four weeks.
The free app, available on iPhones and Androids, also allows you to sign up for tax tips via e-mail.
NEXT: File your taxes by phone
Last updated February 10 2011: 4:45 PM ET