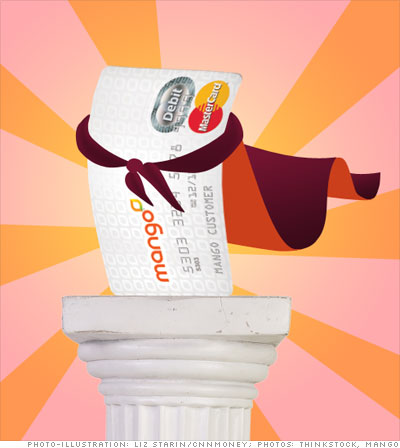 Personal finance experts typically warn consumers against prepaid cards because of their unreasonably high fees. But the Mango Prepaid MasterCard is one of the exceptions, carrying some of the lowest fees in the industry.
While secured cards typically require you to put down a refundable deposit to use the card like a credit card, prepaid cards are simply loaded with your own money. You don't pay interest on these cards, but they also don't report to credit bureaus.
That means prepaid cards are best for consumers who aren't necessarily concerned about building their credit.
"Prepaid cards are good for someone who has no bank account, doesn't have money for a deposit, or isn't ready for a credit card," said Beverly Harzog, credit card expert at Credit.com. "It's important not to step back into the credit card game if you're not ready to control your spending."
Unlike most prepaid cards, the Mango card doesn't have an activation fee, and the card actually comes with a $20 signup bonus when you enroll in free direct deposit. There's no charge for customer service calls, and it's free to load your card with money from your bank account.
Compare that to a prepaid card like the BabyPhat Rush Card, which costs $14.95 just to own and charges $9.95 per month, along with $1 per transaction depending on the plan you choose.
But ATM-frequenters, beware: Like most prepaid cards, the Mango card charges you $2 for ATM withdrawals, and it costs you 50 cents to check your balance.
NEXT: Capital One Cash Rewards for Newcomers
Last updated April 13 2011: 6:50 PM ET