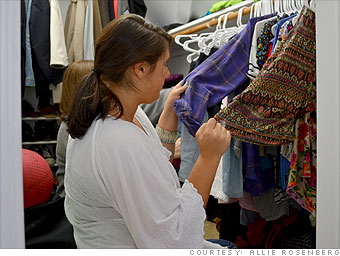 Name: Allie Rosenberg
Age: 23
Hometown: San Francisco
Day job: Account manager
Moneymaking gig: Selling old clothes
I just moved to San Francisco and got a new job at a tech [public relations] firm. I just don't have time to get a second job, but I live a block away from a Buffalo Exchange. They give you cash right on the spot for used clothing.
I have a lot of winter clothes from living on the East coast and they actually gave me a lot of money for clothes I wasn't going to wear anymore. It's been a great way to make a little extra money and create some closet space as well.
Now, I periodically bring things over there and it's nice to have the pocket cash. Last time I made $40. If I go every two weeks I can have some extra cash to put towards groceries or bills.