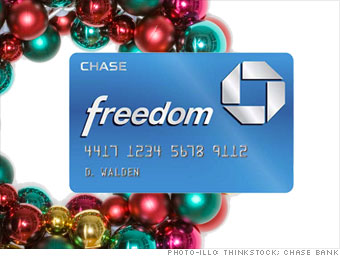 Recommended by: Bankrate and LowCards
Chase Freedom is offering customers a few perks between now and New Year's, like 5% cash back on purchases of up to $1,500, as long as they are spent on dining, department stores, movies and charities. In addition, those who sign up for the card in the upcoming weeks can get an additional $200 cash back after spending $500 on anything in the first three months of opening the card, which could come in handy this time of year.
Freedom, Sapphire and Ink cardholders can also use their reward points to bid in an online auction of products like a PlayStation3 or Sony HDTV every weekday from Nov. 1 through Nov. 25 -- bidding starts at just one point. And those who plan to use their reward points to shop for merchandise on the Ultimate Rewards site on Cyber Monday save 25%.
Read the fine print: Most of these offers are for existing card members. Those who apply now must wait about seven days to receive their card after they are approved. There is no annual fee on most Freedom, Sapphire and Ink cards, but the Chase Sapphire Preferred and Ink Classic cards both charge $95, which is waived the first year.