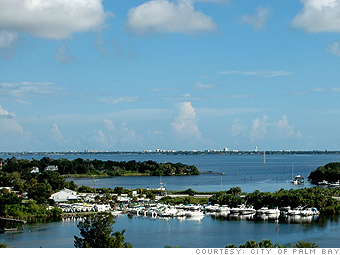 Median home price: $141,000
Drop since market peak: 49.9%
Forecast gain by 9/2012: 9.4%
The Palm Bay, Fla., metro area fell earlier and further than almost any place in the country, according to Linda Schlitt Gonzalez, a Coldwell Banker broker. Why? Because the area was severely overbuilt on expectations that baby boomers would flock here to retire.

Those expectations were pushed back by the housing bust and economic crisis. Home prices cratered, falling 37% between mid-2007 and mid-2010 alone. Plus, foreclosures and inventory have ballooned.
And the bust is not over: Fiserve expects an additional decline of 1.4% through Sept. 30, 2011.

After that the market will come roaring back with a double-digit jump between September 2011 and September 2012.
And retirees that decide to come south to Palm Bay will find an altered real estate market compared to four years ago. Prices of existing homes are now 50% below replacement costs, said Gonzalez, making home buying for the retirees much more affordable.
NEXT: Memphis
Last updated February 07 2011: 5:51 PM ET
Source: Fiserv; based on cities with a population of 500,000 or more.