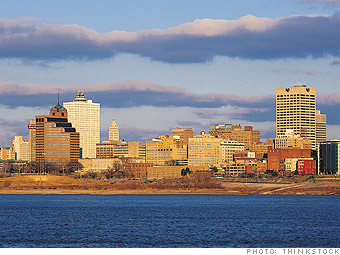 Median home price: $280,000
Drop since market peak: 22.3%
Forecast gain by 9/2012: 7.5%
Economic recovery heated up in Memphis last year, with unemployment dropping a full point to 9.4%. That has helped to slow foreclosure filings, which dropped 22% last year.
"We have added jobs lately and we hope to add a lot more in 2011," said John Gnuschke, director of the Sparks Bureau of Business and Economic Research at the University of Memphis.

The housing market will also benefit from its current affordability. "You can get a very nice house for $138,000," Gnuschke said.

He also pointed out the falling foreclosure numbers in the metro area: They dropped 22% last year and 31% the year before. That means fewer homes going into inventory and a better balance between supply and demand, which will contribute to the steady home price improvement over the next two years.
NEXT: Rochester, N.Y.
Last updated February 07 2011: 5:51 PM ET
Source: Fiserv; based on cities with a population of 500,000 or more.