The 2010 Census revealed that lots of U.S. towns are losing population. What makes some different is that they're not rusting old industrial cities, but fine places to live and raise families. Here are eight.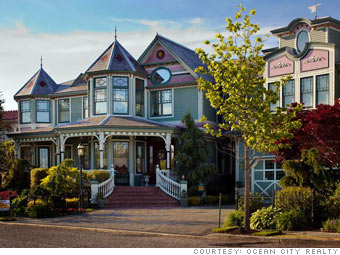 A huge Victorian on the waterfront in Ocean City, N.J., comes with a big prices -- $5.895 million.
Population 2010: 14,699
Drop since 2000: 4.4%
The beach here is special, one of the best in the nation. It's also way down south in Cape May County, which means the summers are a little warmer and a little longer than on Cape Cod or Long Island.

The summer population far exceeds the 15,000 year-round residents, but don't confuse this town with others on the Jersey shore. It started out as a Methodist retreat and developed into a family-oriented resort. It's even dry (as in no alcohol), so it's not likely to attract Snooki, The Situation and their pals.

"It's very quaint," said Mark Grimes, a real estate broker in the area. "There are no high-rises but there are good schools and a family atmosphere. It's the anti-Jersey Shore."

It's not cheap, however. Grimes has single-family homes for sale starting at about $380,000 for a three bedroom bungalow fixer-upper blocks from the beach. At the high end, he's got a 7,000 square foot Victorian on the waterfront for $5.9 million.

He said Ocean City's old-fashioned, world-famous boardwalk runs for 2.5 miles along the ocean and is filled with fudge shops, ice cream stands and other innocent amusements.

All the attractions are not enough to keep the population from shrinking. It fell about 1% from 1990 to 2000 and another 4% during the 2000s.

For further information: Trulia
NEXT: Williamsport, Pa.
Last updated April 21 2011: 10:53 AM ET