Million-dollar homes are the most affordable they've been in years. In fact, $600,000 is the new $1 million, according to Alex Villacorta, senior statistician for Clear Capital. Here are 7 smoking deals from around the country.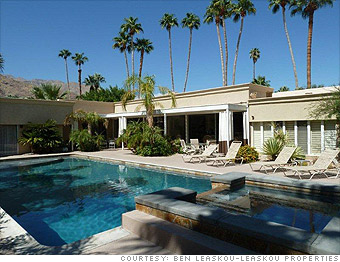 Price:
$1.15 million
Discount:
28%
Description:When this modern Mediterranean was built in 1946, Palm Springs was in its golden age, with Hollywood celebrities flocking to the city.

This 5-bedroom, 5.5-bath house went through a complete remodeling in the 1980s and has since been well maintained. The 4,600-square-foot home's most dramatic feature is a solarium with a full bar and 45 feet of sliding glass that opens onto the garden and pool. There's also high ceilings, a maid's quarters, a guest house, and mountain views.

A few years ago, a large, well-built house like this would have sold in the $1.5 million to $1.6 million range, according to agent Ben Leaskou but the housing bust has taken the price down to a very reasonable level.

For further information: Trulia
NEXT: Sarasota, Fla.
Last updated November 11 2010: 8:31 AM ET