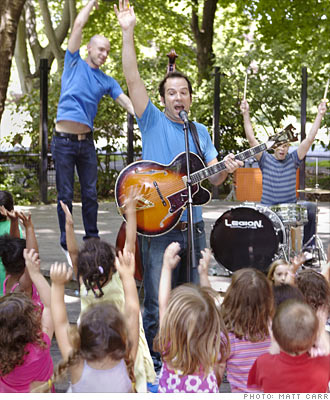 Jeremy get kids on their feet.
Jeremy Zmuda is the lead singer for Jeremy Plays Guitar, which plays pop, country, jazz, and rock music for kids.
Last September, the group released Use Your Words, an award-winning album filled with catchy, educational tunes.
Songs from the album help kids express themselves in a variety of social situations.
The tune "Your Turn, My Turn" teaches kids how to share, while "Wrong's Alright" helps kids to learn from mistakes.
Zmuda started off playing gigs for adults in the United States and Eastern Europe. He also taught music to kids, but soon tired of singing them "Itsy Bitsy Little Spider" and "Twinkle, Twinkle Little Star." So he started writing his own children's songs.
In 2009, he teamed up with Lizzie Bicknell, who had a background in early childhood development, and they wrote songs for the Use Your Words album.
"We sensed there was a real need for that kind of children's music," said Zmuda.
It's also a lot of fun, he added. "After the first note, tons of kids [are] dancing, jumping, singing along to the words."
NEXT: Elizabeth Mitchell and You Are My Flower
Last updated April 21 2011: 1:37 PM ET