Think kids bands are corny? These five groups are bringing rock star cool to kids music and making a mint doing so.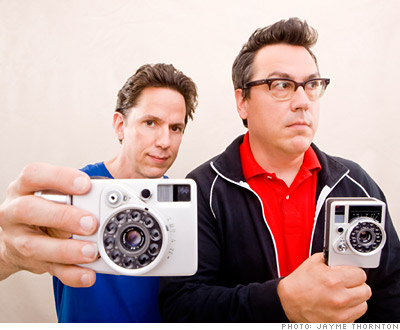 Band members: John Linnell (left) and John Flansburgh.
During the '80s and '90s, They Might Be Giants was at the height of their fame. The indie rock band had sold millions of records and earned two Grammys, one of which was for the theme song for TV show
Malcolm in the Middle.
But by the end of the '90s, the group -- made up of John Linnell and John Flansburgh -- had fallen into a rut.
To jumpstart their creative juices, the duo turned to kids music.
In 2002, They Might Be Giants put out its first kids album, No! , which sold well. Follow-up albums included: Here come the ABCs in 2005, Here Come the 123s in 2008 and Here Comes Science in 2009.
"The success of it completely overwhelmed us," said Flansburgh.
The group has sold more than one million kids records.
NEXT: The Pop Ups
Last updated April 21 2011: 1:37 PM ET