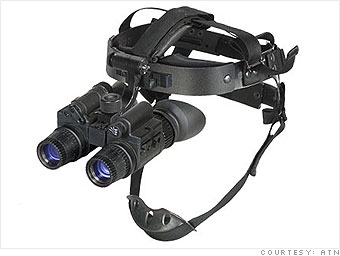 Price:
$8,299
Practical use:
See the undead in the dark
Pro:
The price won't matter in a zombie apocalypse
Con:
It costs $8,299
In Richard Matheson's 1954 novel, "I Am Legend," the original inspiration for the zombie-apocalypse genre, vampires stalk the last human survivor in plague-ridden Los Angeles. To deal with nocturnal vampires, you'll need this PS15-4 GEN night vision goggle system from American Technologies Network.
The goggles have yet to be tested for "zombie detection," according to ATN spokesman Chris Shugart. But why not splurge?
"Maybe you can't afford these on your usual budget," wrote an Amazon lister. " But you can drive yourself into debt because the banks will be overrun with zombies soon anyways."