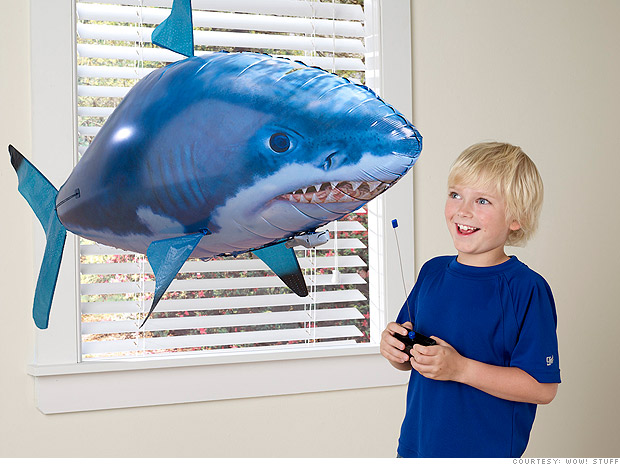 Company: Wow!Stuff
Location: Wolverhampton, England
Price: $49.99 for both toys
Age: Air Swimmers: 8 and up; My Keepon: 6 and up
UK-based Wow! Stuff launches its toys for the first time in the United States, and it's doing it with a bang.
Just two years ago, Wow!Stuff, a toymaker with 50 full-time employees, decided to move away from being a toy importer to a toymaker.
"We didn't want to sell other people's products anymore," said Richard North, CEO of Wow!Stuff. So North and two other colleagues assembled a team of inventors, some of whom were scientists, and embarked on a mission to create exciting, innovative toys. Their mantra was "Wow! Or nothing!"
"Dave the robotic funky shoulder monkey" was the first toy Wow!Stuff produced in 2009. "We sold 300,000 of those but none in the United States," said North. A year later, a friend proposed a meeting with Toys R Us, and North jumped on it. "We literally flew across the pond for a 10-minute chance to present our ideas to Toys R Us," he said. That meeting ended up running four hours.
"They loved our ideas," he said, so much so that Toys R Us immediately locked Wow!Stuff in a deal to debut the company's next two toy products exclusively at Toys R Us stores in the United States and worldwide just in time for the 2011 holiday season.
The first is Air Swimmers, which include a four-foot-long floating remote-controlled shark and giant clownfish. The second toy is My Keepon, an interactive dancing robot that was initially developed to help autistic children. It responds to poking, patting, squeezing and tickling. My Keepon goes on sale on Nov. 3. Air Swimmers hit stores last month.
"The response has been tremendous. Toys R Us said they'll buy as many [of the toys] as we can make," he said.